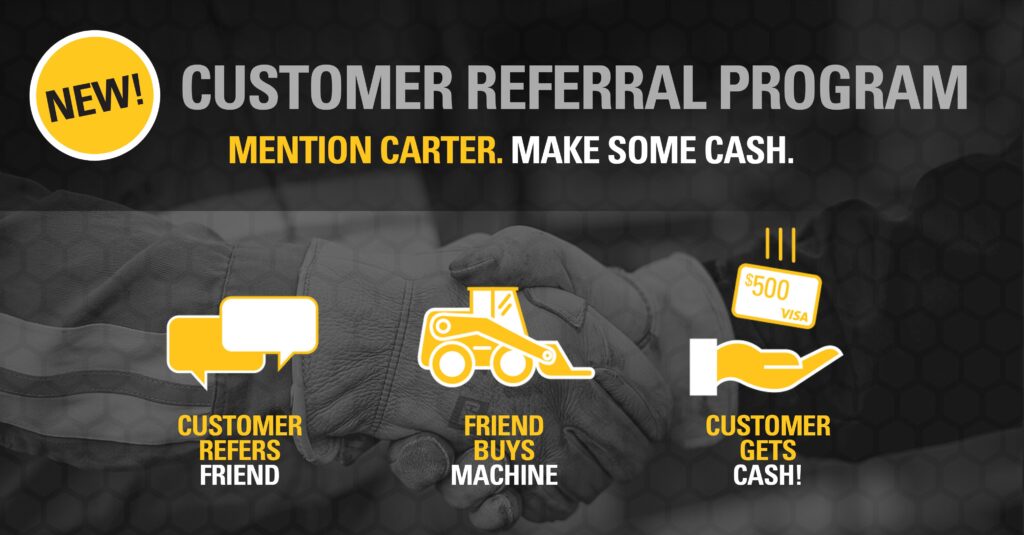 If your friends and family are not current customers and have equipment needs, send them our way! If they end up purchasing a machine, we will give you up to a $500 Visa Gift card for your help.*
How it Works:
Mention Carter Machinery to a friend or family member in the market for an earthmoving piece of equipment, not currently doing business with Carter.
Use the form to the right to submit your referral(s). There is no limit to the number you submit – keep them coming!
Carter Machinery representatives will review your submission and, if accepted, it will be passed along to a sales representative for the consultation process to begin.
If your referral purchases a Cat machine, you will receive a Visa Gift card for each new customer referral you provided.
*See below for full program terms and conditions*
Carter Referral Program Terms of Operation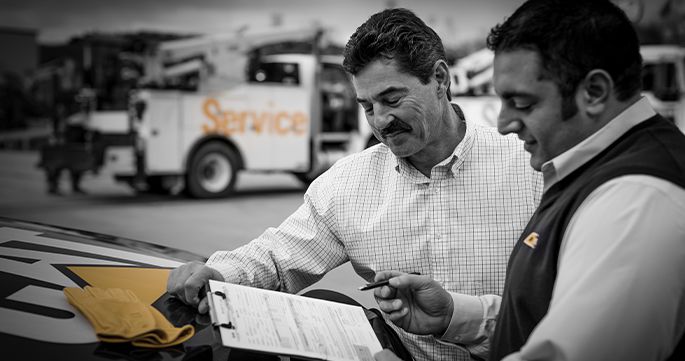 This program may be modified or terminated at any time. This program website is the best source for updated program information. Please see the Frequently Asked Questions or contact us at Referrals@CarterMachinery.com with additional questions.
Participation in the program is voluntary and does not guarantee a payment.
By using the program website to submit information, you agree to participate in the program and accept the terms of operation for the program.
Decisions of Carter Machinery management regarding all operational matters of the program, including but not limited to the acceptance of a referral and the amount of payment made to a referring source, are final. Employees of Carter Machinery, Caterpillar Inc., and their family members are not eligible to participate in this program.
Referrals
Mention Carter, Make Some Cash is a program to reward you for introducing prospects to Carter Machinery which result in business development. The number of referrals you may submit is unlimited; however, please keep these guidelines in mind for a successful process:
This program is intended to bring new customers to Carter Machinery. Referrals which reference any contact of existing customer accounts or active sales prospect accounts will not be accepted by this program. An existing customer account or prospect account is one with machine sales transactions, quotes, or demos within the last 5 years.
For referrals which reference a business, multiple contact names at the business may be submitted, if desired, with each on a separate submission form. However, payment will only be made based upon the first closed sale at that business when it becomes a new customer of Carter Machinery.
Referrals must be submitted for processing by the program prior to the referral contact beginning the sales consultation process with Carter Machinery.
In the event of duplicate referrals received by this program, the date and time submitted will be used to determine the earliest submission which will be the single referral accepted.
To be accepted, referrals must include a first and last name and valid, working contact information including a phone number and email address. A company name should also be submitted if it applies.
Referrals are more likely to be successful if you have knowledge of the contact's intent to purchase earthmoving machinery. If possible, confirm the contact's purchase status and make a recommendation of Carter Machinery prior to submitting information to this program. It is not recommended that you use this program to submit "cold information" for individuals or businesses who you do not know.
---
Payment
Mention Carter, Make Some Cash will reward you when your referral closes the sale of a Cat machine with Carter Machinery.
Offer does not include rentals, purchase of piece parts, service, or individual components such as attachments, tires, etc.
Payment will be made following the closed sale of a Cat machine to the referred contact. A "closed sale" consists of a fully-executed purchase order and receipt of payment by the new customer.
One (1) $500 Visa gift card will be issued for each new Cat machine purchased by the referred new customer during his or her first sale transaction with Carter Machinery • One (1) $300 Visa gift card will be issued for each used Cat machine purchased by the referred new customer during his or her first sale transaction with Carter Machinery • The Visa gift card will be mailed to the "Referred by" address provided on the submission form, or a sales rep will deliver directly.
If a reward is returned as undeliverable or otherwise refused it will be the responsibility of the program participant to contact Carter Machinery with updated information
---
Frequently Asked Questions (FAQs)
Submissions
How will I know if my submission is valid?
While it's great if you can talk with your reference in advance to determine if he or she is already a Carter Machinery customer, don't worry – we will check each submission for you.  If your submission is for an existing Carter Machinery customer, we will notify you.  If that happens, please try again and keep your submissions coming.
What is the status of my submission?
Thank you for participating in Mention Carter, Make Some Cash.  We appreciate your submission.  After each new submission, the information you provided will be reviewed.  After the review process is complete, you will receive a status update email.  The update message will indicate if your submission was accepted and sent to a sales team member for consultation or if it was declined.
Please keep in mind that the sales process may take some time.  There are many factors including the ability to reach the contact, budgeting, financing and other matters which can add to the length of time required for the sales process to close.  We're sorry but we are not able to provide updates during this part of the sales process.
Once your submission has reached the status of a confirmed closed sale, you will be sent another update email which will include details on the payment of your Visa gift card reward.
Rewards
May I receive a check, cash or other form of payment?
We're sorry but this program will only issue a Visa gift card reward in the amounts defined.
Is there a limit to the number of rewards that I can receive?
No. You may submit as many referrals as you like.  Subject to the Program Terms of Operation, each submission will be reviewed for acceptance in the program, and all accepted referrals which result in confirmed qualifying sales will be paid with no limit on the total amount of rewards issued.
My reference promised me he is going to make a purchase this week. Can I receive my gift card now?
We're sorry but the program will only process reward payments following the closed sale of a Cat machine.  When the sale closes, we will work quickly, with a goal of processing rewards within 30 business days.
How long will it take to receive a reward?
The sales process involves many variables, including the ability to reach the reference and engage said referral in the sales process, taking up to several months to close.  Not all references will result in a closed sale. Referral submissions will be valid for 180 days. If a machine transaction is not made in that time frame, reward will no longer be eligible to receive.