Meet the New Cat® D5 Dozer
The next generation Cat D5 dozer succeeds the renowned D6N with best-in-class performance, advanced technology features, and more power to get the job done.
See below to learn more on the D5 Dozer or contact our team to schedule your demo today!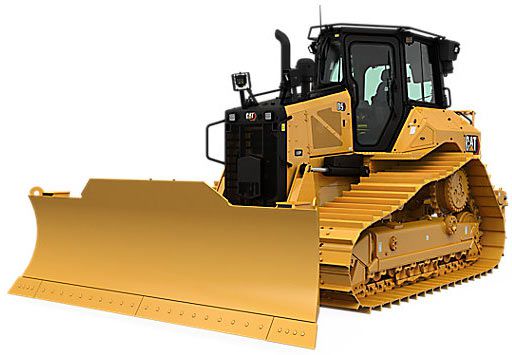 Take Advantage of this Special Offer
Whether you want to reduce your operating costs with a fuel account credit or lower your owning expenses through low financing, we have two great options to help your operation save big.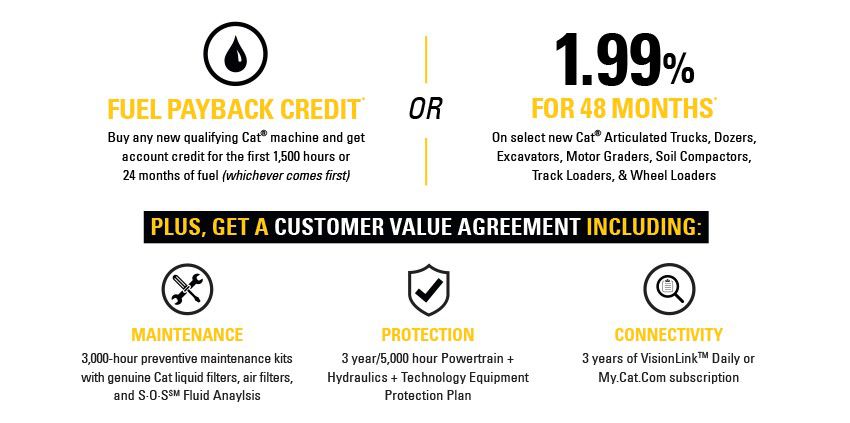 360 Machine View
360 Cab View
Features At A Glance
NEXT GENERATION PERFORMANCE
Harness added weight and horsepower to take on a wide range of dozing and grading tasks.
Improved steering, tighter turning radius, quicker turns at the end of each pass help you finish jobs faster.
Fully automatic 3-speed transmission gives you seamless acceleration, faster cycle times and more nimble movement around the jobsite.
No need to shift – just set your desired ground speed and the dozer adjusts for maximum fuel efficiency and power to the ground.
Agility and ideal machine balance help you achieve high quality grades quickly.
Take on heavier work with a new purpose-built push arm model.
UNPRECEDENTED TECHNOLOGY CHOICES
Cat Grade with Slope AssistTM automatically maintains operator's pre-established blade position without a GPS signal – no additional hardware or software needed.
Factory integrated Cat Grade with 3D uses GPS to control the blade so you can get to grade faster.
Slope Indicate shows machine cross-slope and fore/aft orientation right on the main display to help operators with slope work.
Attachment Ready Option (ARO) comes from the factory with key sensors and wiring installed so you can easily upgrade to fully integrated grade control or blade mounted system.
Cat Command for Dozing provides a remote control solution for enhanced safety and greater productivity.
DESIGNED FOR OPERATORS
More glass area and steeper hood angle provide 30% better forward visibility than the D6N.
New 10″ touchscreen display with easy-to-use operator interface.
Standard High-Definition rear view camera shows prominently in the main display.
Wider air suspension seat has multiple adjustments for personalized comfort.
Entire armrest adjusts forward and backward independent of the seat.
More storage spaces throughout the cab.
BOOST OPERATOR EFFICIENCY
New assist features work behind the scenes to help make machine operation easier.
Make the most of every pass with Blade Load Monitor to help you optimize blade capacity.*
Stable Blade seamlessly works with operator inputs to help produce a smoother surface.
Traction Control automatically reduces track slip to save you time, fuel and track wear.*
AutoCarry automates blade lift to help you maintain consistent blade load and help reduce track slip.*
Power train automatically controls brakes, transmission and steering to provide tighter turns and help operators more easily work on slopes.
*Feature not operational indoors or in areas where a GPS signal is not available.
LONG TERM VALUE AND DURABILITY
Heavier, more robust machine helps increase uptime and reduce overall operating cost.
Hydraulic and electrical lines running to the blade are guarded for better protection.
More robust track roller frame gives you added durability to take on heavier work.
Heavy Duty Extended Life undercarriage – HDXL DuraLink™ – offers up to 20% more seal life in high impact conditions.
New Cat Abrasion undercarriage is your lowest cost-per-hour solution for high abrasion and low impact jobsites. The new design offers double the seal life and eliminates bushing turns, reducing your costs up to 50% per hour compared to traditional undercarriage. Reduces link scalloping for smoother operation.
LOWER MAINTENANCE COSTS
Up to 10% lower maintenance costs.
Easy access to maintenance points and a new ladder at the back of the machine save you time on daily tasks.
Reversible hydraulic demand fan helps remove debris while you work, saving cleanout and maintenance time.
Extended filter life and longer life LED lights help save you time and money.
Easy access under the cab floor if needed. Cab can be removed in about 30 minutes.
BECAUSE UPTIME COUNTS
Product Link™ collects machine data that can be viewed online through web and mobile applications.
Access information anytime, anywhere with VisionLink® – and use it to make informed decisions that boost productivity, lower costs, simplify maintenance, and improve safety and security on your job site.
The Cat App helps you manage your assets – at any time – right from your smartphone. See fleet location and hours, get critical required maintenance alerts, and even request service from your local Cat dealer.
Remote Troubleshoot saves time and money by allowing your Cat dealer to perform diagnostic testing remotely.*
Remote Flash updates on-board software without a technician being present, at a time that is convenient for you, potentially reducing update time by as much as 50%.

* Contact your Cat dealer for availability date by machine model.
PURPOSE BUILT SPECIALTY MODELS
Waste Handler/Landfill Arrangement is a heavy duty dozer with specialized guarding, striker bars and seals to help protect the machine from impact and airborne/wrapping debris. Cooling is designed for high debris environments and easy cleanout. Cab is designed for high impact and specialized air handling features help deliver cleaner air to the machine. Landfill blades and center-hole track shoes help optimize your waste handler for the job.
Forestry Arrangement is a heavy duty dozer with optional machine protection like sweeps, screens and added guarding to help protect the machine in harsh conditions. Cooling system is designed for high debris environments, with easy access for cleanout.
Fire suppression dozer is outfitted with specialized protection against fire and heat, operator safety features and added machine protection for forest fire fighting and prevention.
*Offers valid through 6/30/2021 on select new Cat machines including: Articulated Trucks, Medium Dozers, Medium & Large Hydraulic Excavators, Motor Graders, Soil Compactors, Track Loaders, Medium Wheel Loaders, and Wheeled Excavators. Financing and published rate are subject to credit application and approval through Carter Machinery, Inc. and Cat Financial Services Corporation for customers who qualify. Customers have 60 days from date of sale to enroll their machine(s) in the Fuel Program. Customers will receive $2.25 US/gallon credit for all qualifying models for up to 1,500 hours or 24 months, whichever occurs first from the date of sale. Credits are provided twice a year, up to 1,500 hours or 24 months from date of sale and are issued by Cat Financial. Cat Customer Value Agreement includes: 3 year/5,000 hour Powertrain, Hydraulic, and Technology Equipment Protection Plan, 3,000 hours of preventive maintenance kits with genuine Cat liquid filters, air filters, and S·O·S Fluid Analysis, and 3 years of My.Cat.Com or Visionlink™ Daily. Offers subject to change without prior notice. Additional terms and conditions may apply.