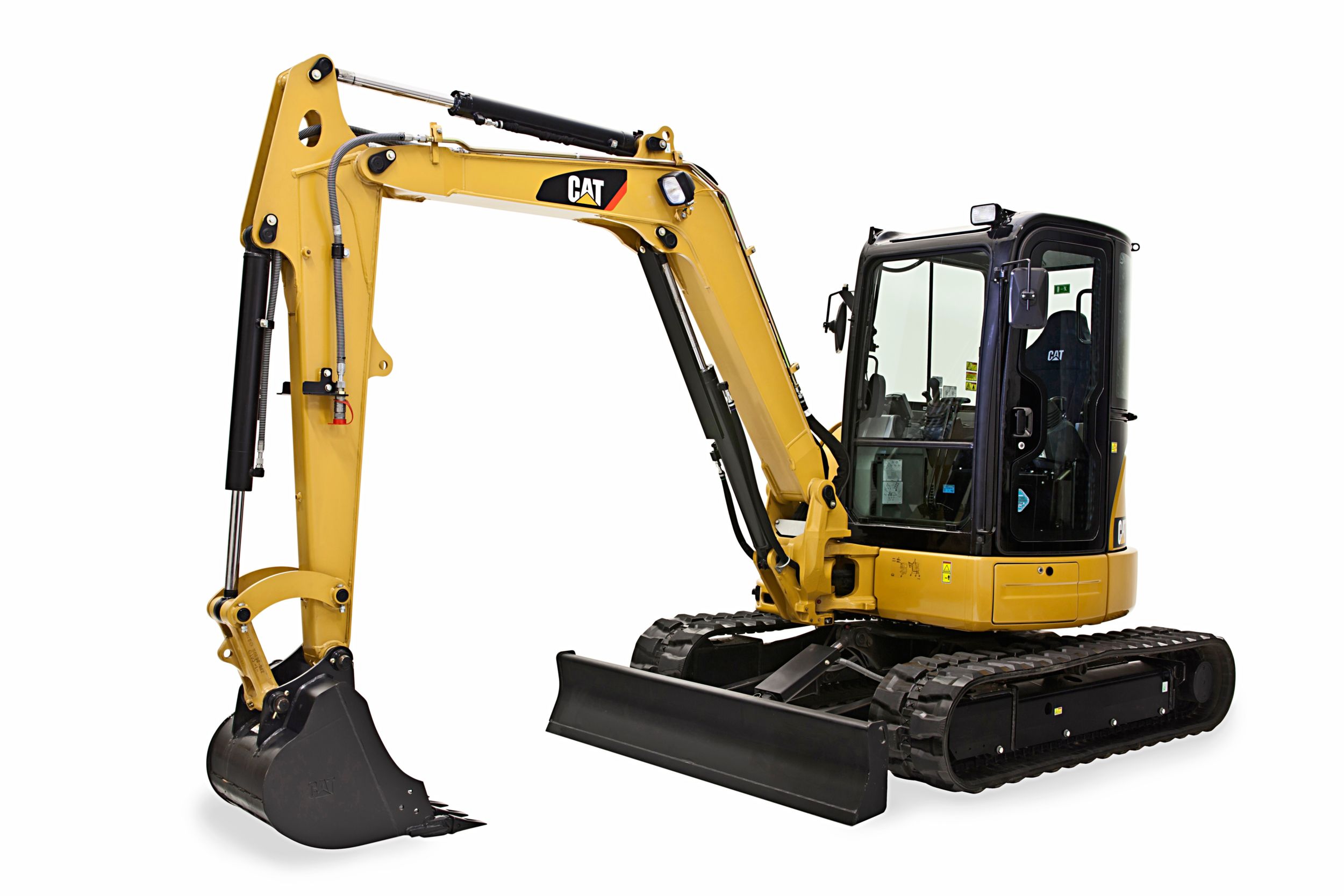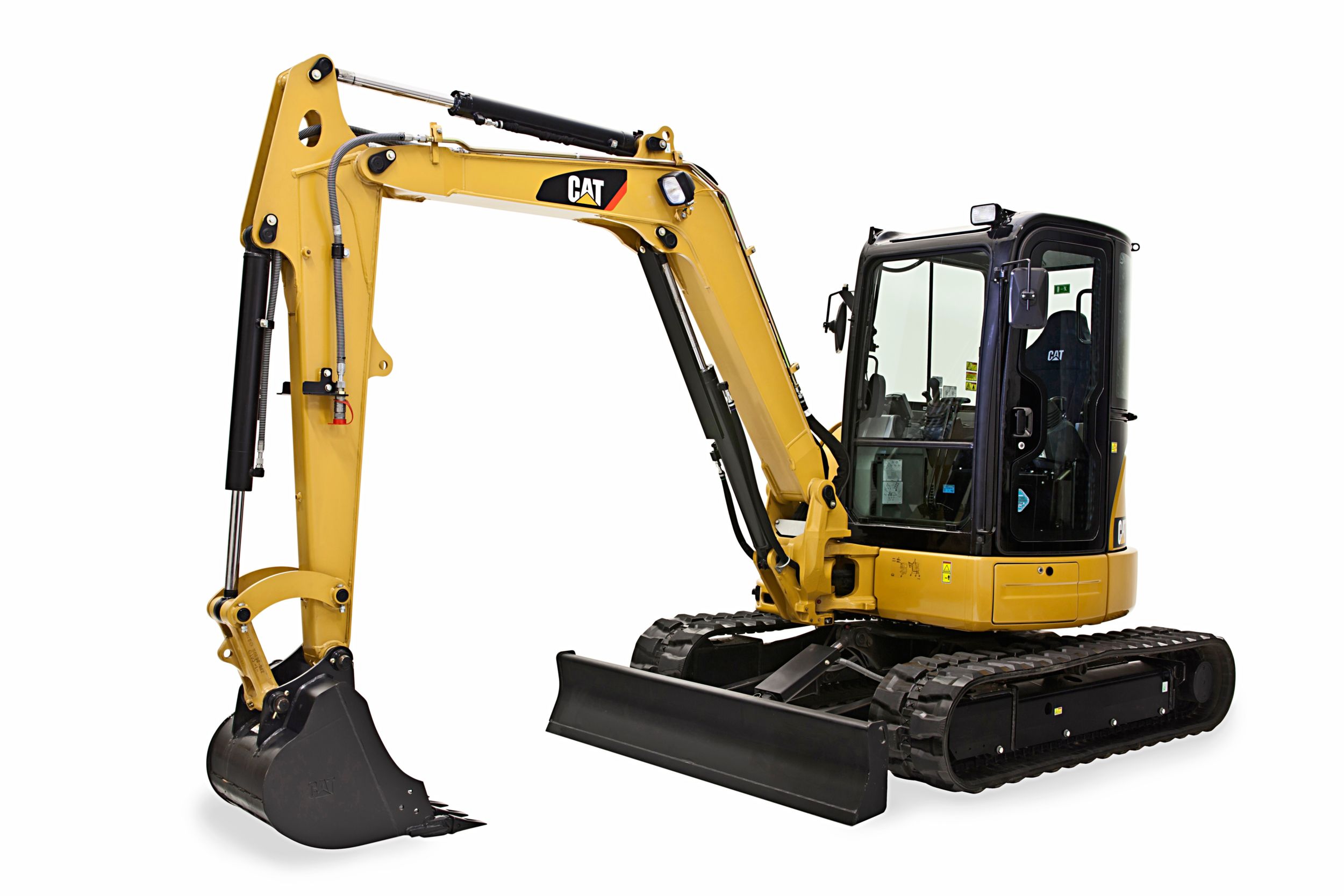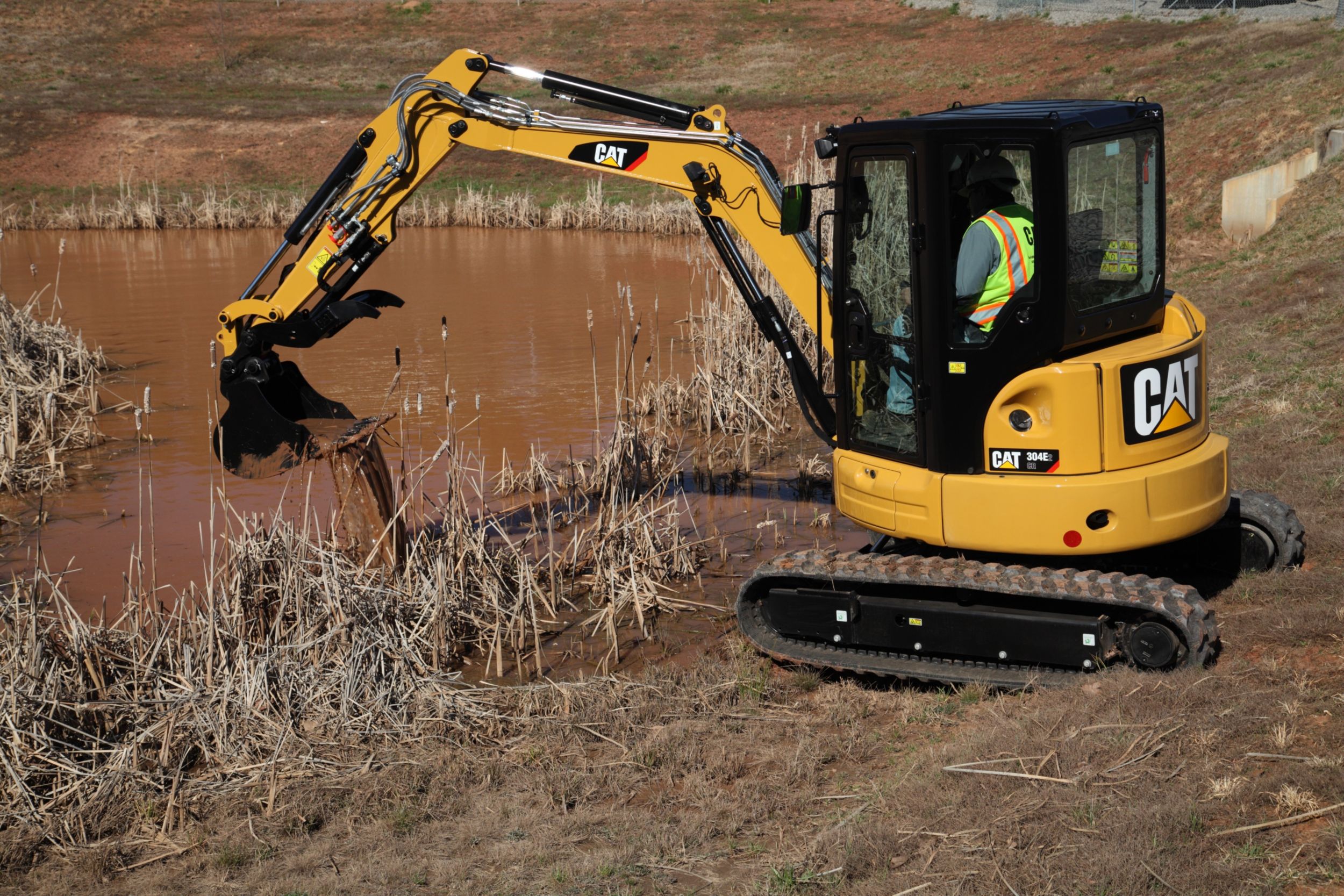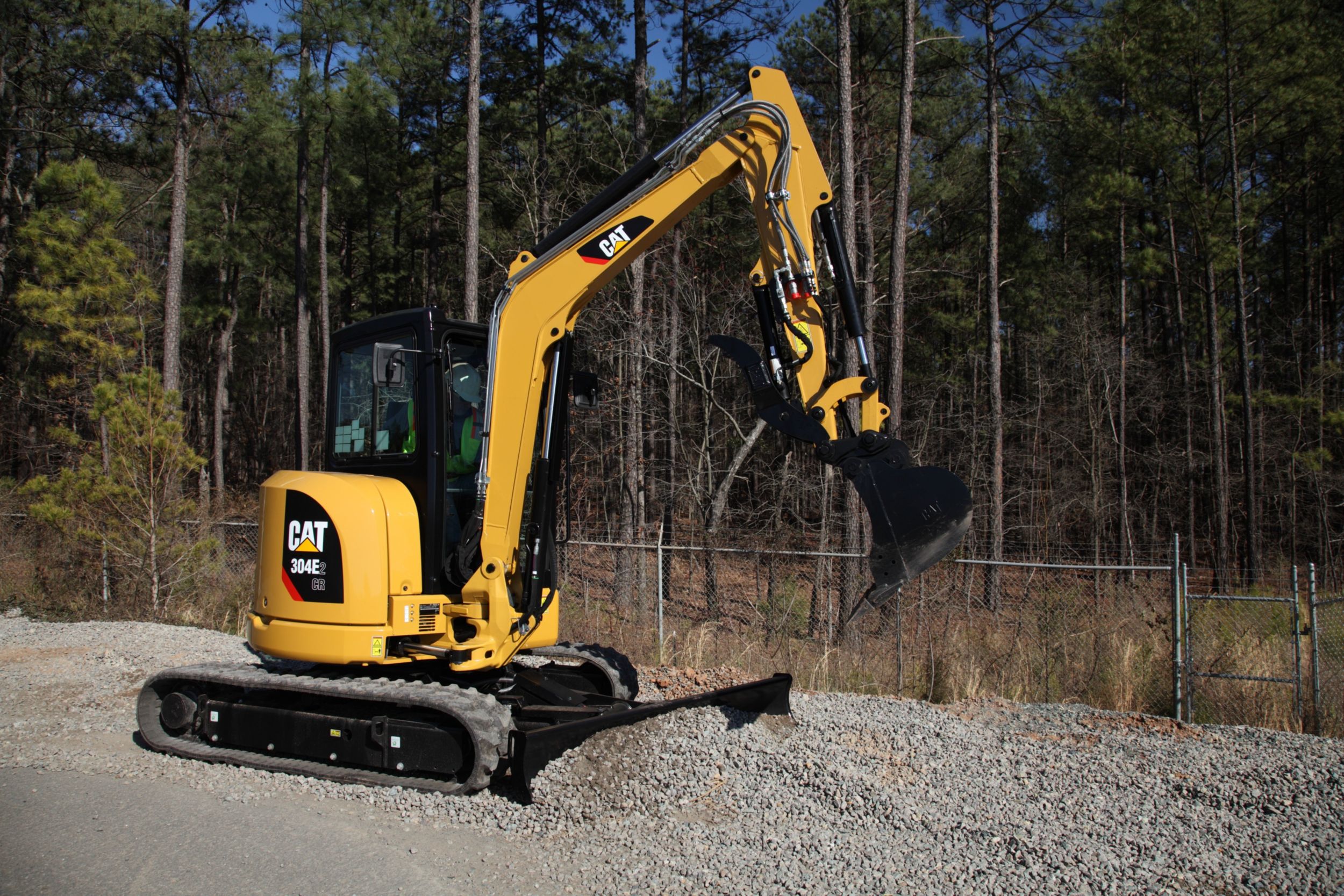 The Cat® 304E2 CR Mini Hydraulic Excavator delivers efficient performance, durability and versatility in a compact design to help you work in a variety of applications.
Engine
Note
The Cat C2.4 meets U.S. EPA Tier 4 Final emission standards for North America, EU Stage V emission standards for Europe and Tier 4 Interim emission standards for all other regions.
Net Power - 2,200 rpm - ISO 9249/EEC 80/1269
40.2 HP
30 kW
Weights*
Operating Weight
8996 lb
4080 kg
Weight - Canopy, Standard Stick
8655 lb
3925 kg
Engine
Displacement
146 in³
2.4 l
Travel System
Maximum Traction Force - High Speed
3799 lb
16.9 kN
Maximum Traction Force - Low Speed
6969 lb
31 kN
Travel Speed - High
3.2 mile/h
5.2 km/h
Travel Speed - Low
2.1 mile/h
3.3 km/h
Hydraulic System
Digging Force - Stick - Long
4384 lb
19.5 kN
Note
Flow and pressure are not combinable. Under load, as flow rises pressure goes down.
Digging Force - Stick - Standard
4856 lb
21.6 kN
Operating Pressure - Travel
3553 psi
245 bar
Operating Pressure - Equipment
3553 psi
245 bar
Operating Pressure - Swing
3132 psi
216 bar
Pump Flow at 2,200 rpm
26.4 gal/min
100 l/min
Maximum Auxiliary Circuit - Secondary - Flow at Pump
6.6 gal/min
25 l/min
Maximum Auxiliary Circuit - Primary - Flow at Pump
17.2 gal/min
65 l/min
Maximum Auxiliary Circuit - Primary - Pressure at Pump
3553 psi
24500 kPa
Maximum Auxiliary Circuit - Secondary - Pressure at Pump
3553 psi
24500 kPa
Swing System
Machine Swing Speed
10 r/min
10 r/min
Blade
Lift Height
15.7 in
400 mm
Service Refill Capacities
Cooling System
1.5 gal (US)
5.5 l
Engine Oil
2.5 gal (US)
9.5 l
Hydraulic Tank
11.2 gal (US)
42.3 l
Fuel Tank
12.2 gal (US)
46 l
Hydraulic System
17.2 gal (US)
65 l
Dimensions - Standard Stick
Maximum Dig Height
196 in
4980 mm
Swing Bearing - Height
22 in
565 mm
Operating Specifications
Stick Length - Long
64 in
1615 mm
Dimensions - Long Stick
Maximum Dig Height
200 in
5070 mm
Hydraulic System
Digging Force - Bucket
8498 lb
37.8 kN
Dimensions - Long Stick
Maximum Reach
220 in
5590 mm
Dimensions - Standard Stick
Maximum Dump Clearance
141 in
3590 mm
Weights*
Weight - Canopy, Long Stick
8721 lb
3955 kg
Lift Capacities at Ground Level - Lift Point Radius: 3000 mm (118 in)
Blade Up - Side
1808 lb
820 kg
Blade Down - Side
2007 lb
910 kg
Cab
Dynamic Operator Sound Pressure Level (ISO 6396:2008)
81 dB(A)
81 dB(A)
Dimensions - Long Stick
Vertical Wall
101 in
2560 mm
O/A Shipping Height
98 in
2500 mm
Lift Capacities at Ground Level - Lift Point Radius: 3000 mm (118 in)
Blade Up - Front
1808 lb
820 kg
Dimensions - Standard Stick
Boom Swing - Left
26 in
670 mm
Lift Capacities at Ground Level - Lift Point Radius: 4500 mm (177 in)
Blade Up - Front
948 lb
430 kg
Dimensions - Standard Stick
Boom In Reach
83 in
2110 mm
Cab
Exterior Sound Power Level - ISO 6395:2008*
96 dB(A)
96 dB(A)
Dimensions - Standard Stick
Maximum Blade Depth
19 in
470 mm
Operating Specifications
Machine Overhang
0 in
0 mm
Dimensions - Long Stick
Boom Swing - Right
29 in
735 mm
Travel System
Ground Pressure - Canopy
4.1 psi
28.1 kPa
Weights*
Weight - Cab, Long Stick
8996 lb
4080 kg
Dimensions - Long Stick
Maximum Blade Depth
19 in
470 mm
O/A Track Width
77 in
1950 mm
Dimensions - Standard Stick
O/A Shipping Height
98 in
2500 mm
Weights*
Weight - Cab, Standard Stick
8930 lb
4050 kg
Engine
Gross Power - ISO 14396
41.8 HP
31.2 kW
Dimensions - Long Stick
Maximum Dump Clearance
145 in
3690 mm
Dimensions - Standard Stick
Maximum Reach
211 in
5350 mm
Vertical Wall
95 in
2420 mm
Maximum Reach - Ground Level
206 in
5220 mm
Dimensions - Long Stick
Swing Bearing - Height
22 in
565 mm
Boom Height - Shipping Position
70 in
1770 mm
Lift Capacities at Ground Level - Lift Point Radius: 3000 mm (118 in)
Blade Down - Front
3462 lb
1570 kg
Dimensions - Long Stick
Track Belt/Shoe Width
14 in
350 mm
O/A Shipping Length
194 in
4930 mm
Maximum Reach - Ground Level
215 in
5470 mm
O/A Undercarriage Length
87 in
2220 mm
Lift Capacities at Ground Level - Lift Point Radius: 4500 mm (177 in)
Blade Down - Side
1058 lb
480 kg
Dimensions - Long Stick
Maximum Blade Height
16 in
400 mm
Lift Capacities at Ground Level - Lift Point Radius: 4500 mm (177 in)
Blade Down - Front
1896 lb
860 kg
Dimensions - Standard Stick
Track Belt/Shoe Width
14 in
350 mm
Dimensions - Long Stick
Boom Swing - Left
26 in
670 mm
Dimensions - Standard Stick
Maximum Blade Height
16 in
400 mm
Lift Capacities at Ground Level - Lift Point Radius: 4500 mm (177 in)
Blade Up - Side
948 lb
430 kg
Operating Specifications
Stick Length - Standard
52 in
1315 mm
Dimensions - Standard Stick
O/A Track Width
77 in
1950 mm
Dimensions - Long Stick
Boom In Reach
87 in
2220 mm
Travel System
Ground Pressure - Cab
4.3 psi
29.5 kPa
Dimensions - Standard Stick
Boom Height - Shipping Position
58 in
1480 mm
O/A Undercarriage Length
87 in
2220 mm
O/A Shipping Length
190 in
4820 mm
Boom Swing - Right
29 in
735 mm