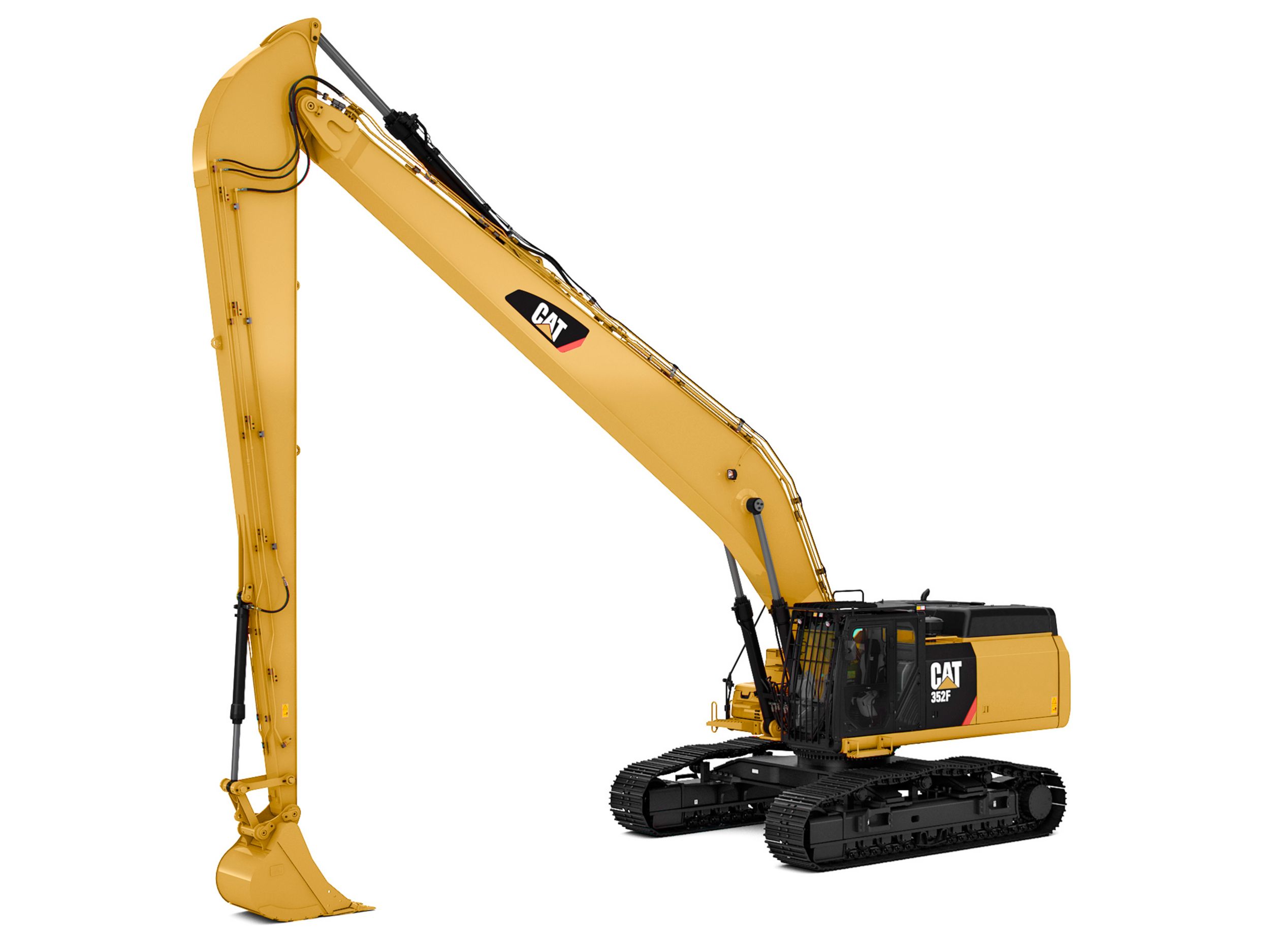 The Cat 352F LRE Long Reach Excavation Hydraulic Excavator is built to keep your production numbers up and your owning and operating costs down. Not only does the machine's ACERT engine meet EU Stage IV emission standards, but it does so while giving you all the power, fuel efficiency, and reliability you need to succeed. Where the real power comes in is through the hydraulic system. You can literally move tons of material all day long with a great deal of speed and precision. When you add in a quiet operator environment that keeps you comfortable and productive, service points that make your routine maintenance easy, and multiple Cat work tools that help you take on a variety of jobs, you simply won't find better Long Reach Excavation machines.
Weights
Operating Weight
130955 lb
59400 kg
Swing Mechanism
Swing Torque
109528 ft·lbf
148.5 kN·m
Sound Performance
Operator Sound Pressure Level - ISO 6396:2008*
69 dB(A)
69 dB(A)
Hydraulic System
Maximum Flow - Pilot System
7.1 gal/min
27 l/min
Stick Cylinder - Bore
7.48 in
190 mm
Hydraulic System
Maximum Flow - Swing System
102 gal/min
385 l/min
Boom Cylinder - Stroke
147.6 in
3748 mm
Drive
Maximum Travel Speed
2.9 mile/h
4.7 km/h
Sound Performance
Note (2)
Hearing protection may be needed when operating with an open operator station and cab (when not properly maintained or doors/windows open) for extended periods or in a noisy environment.
Hydraulic System
Maximum Flow - Auxiliary Circuit - High Pressure
79 gal/min
300 l/min
Boom Cylinder - Bore
6.69 in
170 mm
Service Refill Capacities
Swing Drive - Each
2.6 gal (US)
10 l
Fuel Tank Capacity
190 gal (US)
720 l
Engine
Displacement
763 in³
12.5 l
Standards
Cab/FOGS
SAE J1356 FEB88, ISO 10262:1998
Engine
Power - ISO 14396
317 kW (431 PS)
Drive
Maximum Drawbar Pull
74187 lbf
330 kN
Sound Performance
Exterior Sound Power Level - ISO 6395:2008*
106 dB(A)
106 dB(A)
Track
Number of Shoes - Each Side
52 pieces
Service Refill Capacities
Final Drive - Each
4 gal (US)
15 l
Hydraulic Tank Oil
108 gal (US)
407 l
Hydraulic System
Maximum Pressure - Equipment
5076 psi
35000 kPa
Service Refill Capacities
Cooling System
13.2 gal (US)
50 l
Hydraulic System
B1 Bucket Cylinder - Stroke
109.8 in
2788 mm
Track
Number of Track Rollers - Each Side
9 pieces
Service Refill Capacities
Hydraulic System Oil - Including Tank
151 gal (US)
570 l
Hydraulic System
B1 Bucket Cylinder - Bore
4.72 in
120 mm
Engine
Power - ISO 9249
304 kW (413 PS)
Hydraulic System
Stick Cylinder - Stroke
169.5 in
4306 mm
Weights
Maximum Weight
130955 lb
59400 kg
Engine
Gross Power - SAE J1995
322 kW (438 PS)
Hydraulic System
Maximum Pressure - Pilot System
598 psi
4120 kPa
Maximum Pressure - Travel
5076 psi
35000 kPa
Maximum Flow - Auxiliary Circuit - Medium Pressure
11.9 gal/min
45 l/min
Hydraulic System
Maximum Flow - Main System
203 gal/min
770 l/min
Track
Number of Carrier Rollers - Each Side
3 pieces
Service Refill Capacities
DEF Tank
10.8 gal (US)
41 l
Hydraulic System
Maximum Pressure - Equipment - Heavy Lift
5511 psi
38000 kPa
Drive
Maximum Gradeability
30°/70%
Hydraulic System
Maximum Pressure - Swing
3989 psi
27500 kPa
Service Refill Capacities
Engine Oil - With Filter
10 gal (US)
38 l
Sound Performance
Note (1)
*as per European Union Directive 2000/14/EC as amended by 2005/88/EC
Standards
Cab - ROPS
ISO 12117-2:2008
Swing Mechanism
Swing Speed
8.7 r/min
8.7 r/min