Optimize the performance of your ground engaging tools with Cat Advansys™
Designed for demanding, high-production applications, this new system of tips and adapters reduces operating costs, decreases downtime, and allows more material to be moved with less wear on the machine.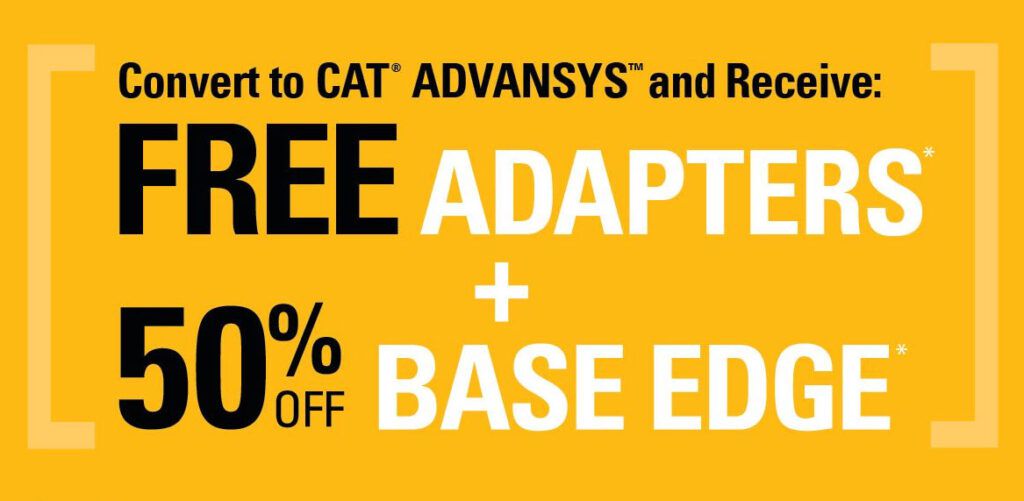 HAMMER-FREE INSTALLATION PROCESS:
The Cat Advansys™ hammerless system simplifies the installation process with integrated retention components. With seamless retrofitting, adapters easily drop into the same space, extending the wear life on ground engaging tools.

System Performance & Reliability
New tip shapes put wear material where you need it most
Up to 50% less stress with new, stronger adapter nose
Installation and Removal Process
Retainer lock requires no special tools for quick tip removal and installation
Only a half-turn of retention is required
Safer, quicker installation process
Improved Safety
New hammerless systems is quicker, easier, and less strenuous for the technician
Contact us to earn a FREE Adapter Conversion plus 50% off Base Edge Replacement. Rules & restrictions apply*.
Browse by Part Number
Search options by part number, model, machine type, and adapter/tip size.
*Offers valid through 12/31/2021 on conversion to Advansys GET. Base-edge replacement is eligible for non-Cat models only. Restrictions apply. Contact your local Carter Machinery sales rep for more details.