Carter Machinery's network of more than 30 locations has over 150,000 different part numbers in stock. Whether you are buying new, used, reman, or exchange, we have multiple parts options to support your operation's needs.
Although we are unable to stock every part on our shelves, our network ensures you'll get what you need quickly, with 99% parts availability by next day. We use a triple hub system and nightly truck runs to shuttle parts between all of our stores. Additionally, our trucks visit regional Caterpillar parts depots daily, assuring that if it's not on the shelf, we can get it.
Parts Distribution
Our triple hub system, outlined below, is the key to ensuring parts availability to our customers. Every night, our stores are serviced by local truck runs that originate from our hubs in Baltimore, Richmond, and Salem. In turn, our hubs are supplied by daily truck runs from the regional Cat Parts Depot in York, PA. As a result, most parts are available on the shelf or next day.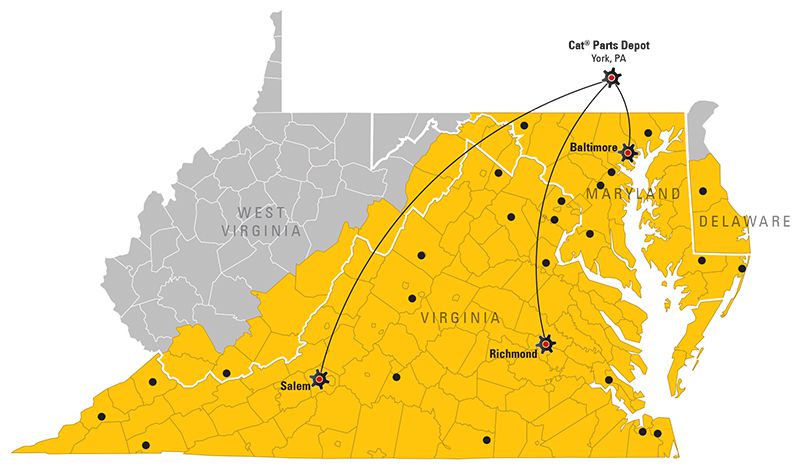 Parts Drop Boxes
In addition to our network of store locations, Carter also provides drop boxes for convenient parts pick-up. With over 200 locations throughout Washington D.C., Maryland, Delaware, Virginia, and West Virginia, you can save more time on your jobsite and less driving to the nearest store. Contact your local Carter Machinery store to get set up and start using a drop box location near you!