REPAIR NOW. REPAY LATER.
Carter Machinery is a participant in the Cat Card Program. The program offers commercial and consumer financing options to give you the flexibility to finance your parts, service and rental needs. Take advantage of 0% APR for 12 months, 1.9% for 18 months, and 3.9% for 24 months to give you the flexibility to finance your parts, service and rental needs.
Benefits include:
Financing solution for aftermarket parts and service
No minimum transaction amount required
Special financing and flexible payment terms
Great for terms less than 24 months
Low interest or no interest
Equipment does not have to be free & clear
Unsecured financing – no lien required
Periodic promotional offers
Fill out the form below to get more information about our financing options.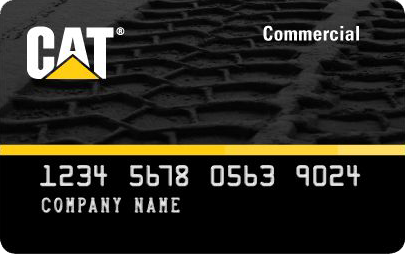 Revolving Commercial Credit Card
Dedicated, commercial, revolving credit line
Special financing and flexible payment terms
Special, periodic promotional offers
Equipment rentals allowed (payment due in full)
Purchases aggregate to monthly balance
25-day grace period
Joint & Several liability, plus option for business-only underwriting
Cat Card Rewards Program
Qualifying customers will earn 1% on all qualifying purchases when your Cat Card is used. Click below for full terms and conditions.
Frequently Asked Questions
Why am I receiving this new card?
You completed an application for a Cat® Card and have been approved at the credit limit noted in the accompanying letter.
What are the benefits of the Cat Card?
The new Cat Card from Cat Financial features no annual fee, special financing, flexible payment terms and special promotional offerings. Additional features like 1% Cat Card Rewards on all qualifying purchases, multiple users under one account, expense tracking by job, and service and support from a dedicated Cat Financial team mean the new Cat Card works as hard as you do (see cat.com/catcardrewards for details and terms and conditions).
Where can I use my Cat Card?
Your Cat Card may be used at any Cat dealer or Cat Rental Store in the U.S. and Canada.
What can I purchase with it?
Qualified purchases include parts, engines, components, work tools, generator sets, Customer Value Agreements, Equipment Protection Plans, Agco Equipment, agriculture implements, lift trucks, air compressors and all allied equipment.
Do I need to present the card each time I use it?
You need not have your card with you to use it. Your Cat dealer can look up your card number using your government-issued photo identification at time of purchase.
Can a Cat Card have more than one authorized user?
Yes. Each authorized user from your company will receive a Cat Card with your company account number. Call our Customer Service team at the number on the back of your card (1-877-373-9510) to learn more about flexible control opportunities or to set up and make changes to controls on your new account.
Can I manage my account online?
Enjoy 24/7 account online management features by registering or adding your Cat Card account at MyCatFinancial.com. The MyCatFinancial mobile app is also available through the App Store or Google Play.
Are automatic payments available?
Yes. For details, call our Customer Service team at 1-877-373-9510 or email CatCard@Cat.com.
When is my first payment due?
For payment due date, see your billing statement or view your account details online at MyCatFinancial.com.
Where do I send my payment?
Please note the payment address and payee name on the remittance coupon of your billing statement. You may also pay online via MyCatFinancial.
What are Cat Card Rewards?
Cat Card Rewards is a program included with the new Cat Card that will provide Rewards on all qualifying Cat Card purchases for eligible Accountholders. Rewards are earned and may, in most cases, be used for the purchase of Cat parts, service, work tools or rentals at any Cat dealer or Cat Rental Store location in North America. Eligible Accountholders can begin accruing Cat Card Rewards on May 3rd, and may begin redeeming their rewards as soon as July. See cat.com/catcardrewards for details and terms and conditions.
*Offer is valid for qualifying new or reman parts, with or without service, for machine engine purchases of $1,000 or more at participating dealerships in the United States. Offer valid until December 31, 2021.