What's in your coolant system?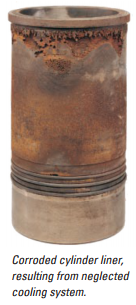 S·O·S Coolant Analysis is performed by trained Carter technicians who possess cooling system expertise, so you can count on accurate and dependable lab results, interpretations and recommendations.
It pays to monitor your coolant
The S·O·S Coolant Analysis offers a quick, low-cost way to evaluate the effectiveness of your coolant. It also checks for contaminants and monitors the condition of the cooling system and other major engine systems.
About 50% of all engine downtime can be attributed to cooling system problems. Warmer engine operating conditions and smaller cooling systems are placing increased demands on your coolant and equipment. Left undetected, corrosion caused by a neglected cooling system can lead to costly damage and downtime. S·O·S Coolant Analysis pays for itself by providing improved efficiency, longer component life, fewer repairs and less downtime for your business.
Test Your Coolant's Performance
With so many different kinds of coolant available, it can be difficult to choose the right one — and even harder to know if you're getting the performance you're paying for. Carter helps you get the information you need with two types of coolant analysis.
Level 1: Basic Coolant Maintenance Check
Recommended every 500 to 1,000 hours. Tests glycol, pH level, conductivity, coolant additive concentrations, boiling point and freeze point.
Level 2: Comprehensive Coolant System Analysis
Recommended every 2,000 hours, or at least once a year. Tests for all items in Level 1, plus identifies metal corrosion, built-up impurities and other organic acids.
| | | |
| --- | --- | --- |
| COOLANT TESTS | LEVEL 1 | LEVEL 2 |
| Glycol Level | X | X |
| pH | X | X |
| Conductivity | X | X |
| Nitrite Level | X | X |
| Odor | X | X |
| Appearance | X | X |
| Precipitate | X | X |
| Foam | X | X |
| Freeze / Boil Point | X | X |
| Metal Corrosion (wear metals) | | X |
| Total Hardness | | X |
| Glycolate (Glycol breakdown) | | X |
| Tolytriazole | | X |
| Organic Acid Levels | | X |
| Corrosion Inhibitator Levels | | X |