Introducing Carter University
Carter Machinery and Caterpillar have partnered to present an exciting training opportunity for all of our customers. Easily launch engaging videos, interactive training, virtual simulations, a resource library and much more, all with the click of a mouse. All in an intuitive, easy-to-use platform at Carter University. No confusing menus. No complicated steps to launch training. Everything is at your fingertips.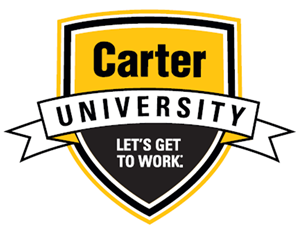 Visit CarterU.com now and start maximizing your machines and improving the safety of your workplace.
Your Training. Your Way
Training designed by the people who build, service, and support your equipment!
Technician Training
Learn the fundamental systems on Cat machines and engines. Learn tips and techniques on how to better maintain your equipment.
Safety Training
Improve safety, reduce risks! Over 100 safety training courses on Environmental Health and Safety (EHS) as well as Mine Safety and Health Administration.
Operator Training
Trained operators move the most material in the least time. They run machines safely and reduce unnecessary wear and tear. Optimize performance with Carter University.
Defense Training
We provide training for specialized needs.