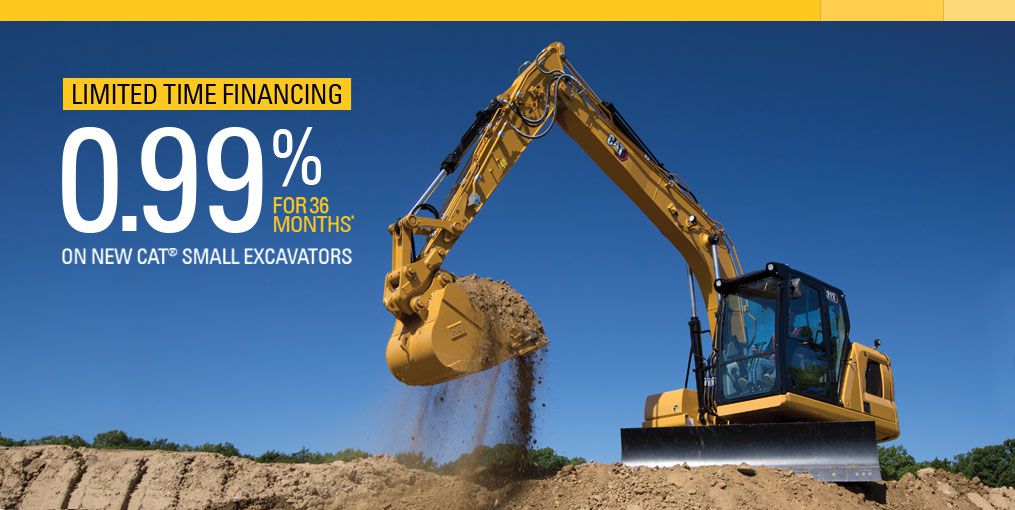 Small Machines. Big Productivity.
Cat® small excavators are perfect for smaller jobs and applications with space constraints. Equipped with standard, easy-to-use Cat technologies, these small excavators will boost operator efficiency, improve jobsite productivity, and lower overall operating costs.
Take advantage of our 0.99% for 36-months financing when you purchase a new Cat® Small Excavator.* See chart below for eligible models.
Fill out the form to the right to get a quote or schedule a demo – this offer won't last long!
Compare Small Excavator Models
MODEL
ENGINE
MAX HORSEPOWER
OPERATING WEIGHT
MAX DIG DEPTH
311F
C3.4B
71 hp
28,660 lbs
18.3 ft
313 GC
C3.6
73 hp
30,400 lbs
19.8 ft
313
C3.6
108 hp
30,400 lbs
19.8 ft
315 GC
C3.6
98 hp
34,000 lbs
19.6 ft
315
C3.6
108 hp
34,000 lbs
19.6 ft
316F
C4.4
117 hp
39,029 lbs
20 ft
317 GC
C3.6
119 hp
38,100 lbs
21 ft
317
C4.4
130 hp
40,200 lbs
21 ft
318F
C4.4
117 hp
42,340 lbs
20 ft
*Offer valid through 12/31/2021. Financing and published rates are subject to credit approval through Carter Machinery Company, Inc. and Caterpillar Financial Services. Applies to the following Cat models only: 311F, 313 GC, 313, 315, 315 GC, 316F, 317, 317 GC, 318F. Offer may change without prior notice and conditions may apply. Subject to availability. Insurance and additional warranties available for purchase.